---
---
Haskell Communities and Activities Report
Twenty-Third Edition – November 2012
Janis Voigtländer (ed.)
---
Andreas Abel
Heinrich Apfelmus
Emil Axelsson
Doug Beardsley
Jean-Philippe Bernardy
Jeroen Bransen
Gwern Branwen
Joachim Breitner
Björn Buckwalter
Erik de Castro Lopo
Olaf Chitil
Duncan Coutts
Jason Dagit
Nils Anders Danielsson
Romain Demeyer
Daniel Diaz
Atze Dijkstra
Adam Drake
Sebastian Erdweg
Ben Gamari
Andy Georges
Patai Gergely
Brett G. Giles
Andy Gill
George Giorgidze
Torsten Grust
Jurriaan Hage
Bastiaan Heeren
Mike Izbicki
PALI Gabor Janos
Guillaume Hoffmann
Csaba Hruska
Paul Hudak
Oleg Kiselyov
Michal Konecny
Eric Kow
Ben Lippmeier
Andres Löh
Hans-Wolfgang Loidl
Rita Loogen
Ian Lynagh
Christian Maeder
José Pedro Magalhães
Ketil Malde
Antonio Mamani
Simon Marlow
Dino Morelli
JP Moresmau
Ben Moseley
Takayuki Muranushi
Jürgen Nicklisch-Franken
Tom Nielsen
Rishiyur Nikhil
Jens Petersen
David Sabel
Uwe Schmidt
Martijn Schrage
Tom Schrijvers
Andrew G. Seniuk
Jeremy Shaw
Christian Höner zu Siederdissen
Michael Snoyman
Doaitse Swierstra
Henning Thielemann
Sergei Trofimovich
Bernhard Urban
Marcos Viera
Janis Voigtländer
Daniel Wagner
Greg Weber
Kazu Yamamoto
Edward Z. Yang
Brent Yorgey
Preface
This is the 23rd edition of the Haskell Communities and Activities Report. As usual, fresh entries are formatted using a blue background, while updated entries have a header with a blue background. Entries for which I received a liveness ping, but which have seen no essential update for a while, have been replaced with online pointers to previous versions. Other entries on which no new activity has been reported for a year or longer have been dropped completely. Please do revive such entries next time if you do have news on them.
A call for new entries and updates to existing ones will be issued on the Haskell mailing list in April. Now enjoy the current report and see what other Haskellers have been up to lately. Any feedback is very welcome, as always.
Janis Voigtländer, University of Bonn, Germany, <hcar at haskell.org>
1 Community
2 Books, Articles, Tutorials
heterogeneous tuples. For example: g sel = (sel (1,'b'), sel (true,"four"))
It is already a problem to type such a function in System F, let alone in the Hindley-Milner system. But we want more: a function that takes functions like |g| as an argument: fs g = (g snd, (), g fst)
test = f (\sel -> (sel (1,'b'), sel (true,"four")))


The mini-tutorial first shows a brute-force solution, emulating the necessary higher-rank polymorphism. Then we change the point of view: we now represent the function as a 'table', 'indexed' by the selector argument. This change of representation is quite like applying the eta-rule for sums. In this new representation, the problem becomes trivial: g' = (g_fst, g_snd)
where
g_fst = (fst (1,'b'), fst (True,"four"))
g_snd = (snd (1,'b'), snd (True,"four"))
fs g' = (fst g', (), snd g')
test = fs g'


http://okmij.org/ftp/Computation/extra-polymorphism.html#ho-poly-sel
Parametric polymorphism over a type class
A Haskell-Cafe message posed a problem of parameterizing a function by a type class rather than by a type. Can we write the following two definitions as a single polymorphic definition, eliminating the code duplication? foo :: (Num c, Num d) =>
(forall b. Num b => a -> b) -> a -> (c, d)
foo f x = (f x, f x)
bar :: (Read c, Read d) =>
(forall b. Read b => a -> b) -> a -> (c, d)
bar f x = (f x, f x)
The only difference between |foo| and |bar| is the type class constraint: |Num| vs |Read|. The problem thus is to parameterize over constraints. The mini-tutorial develops the solution without resorting to the recently added Constraint kind, showing that first-class constraints have always been available in Haskell.
The type class Apply class Apply l a b | l b -> a where
apply :: l -> a -> b
data LRead = LRead
instance Read b => Apply LRead String b where
apply _ = read
introduces the correspondence between constraints and ordinary types. For example, the shown instance maps the type |LRead| to the constraint |Read|. The type-class Apply also gets around higher-rank polymorphism; therefore, the types are inferrable. The mini-tutorial then explores the fact that the quantification over arbitrary type predicates (expressed as constraints) gives the unrestricted set comprehension.
http://okmij.org/ftp/Computation/extra-polymorphism.html#class-quantification
3 Implementations
3.4 Specific Platforms
4 Related Languages and Language Design
The library |Control.Applicative.IdiomBrackets| provides a syntactic extension for programming with applicatives, using idiomatic brackets |(|| ... ||)|. Uses of idiom brackets are desugared in-place to produce plain Haskell code. Generally, the usage of syntactic extensions in a program is transparent to its clients.
SugarHaskell provides both a compiler and an Eclipse-based IDE. The SugarHaskell compiler is available as a Hackage package [2] and can be easily installed using cabal-install. Since our system is implemented in Java, the SugarHaskell package requires a preinstalled Java runtime. Moreover, we distribute the source code via github, and involvement of others is welcome. The SugarHaskell IDE is available as an Eclipse plugin and can be installed from our Eclipse update site [3]. The IDE provides some standard editor services such as code coloring or outlining for Haskell, and is also extensible itself to accommodate user-defined editor services for SugarHaskell extensions.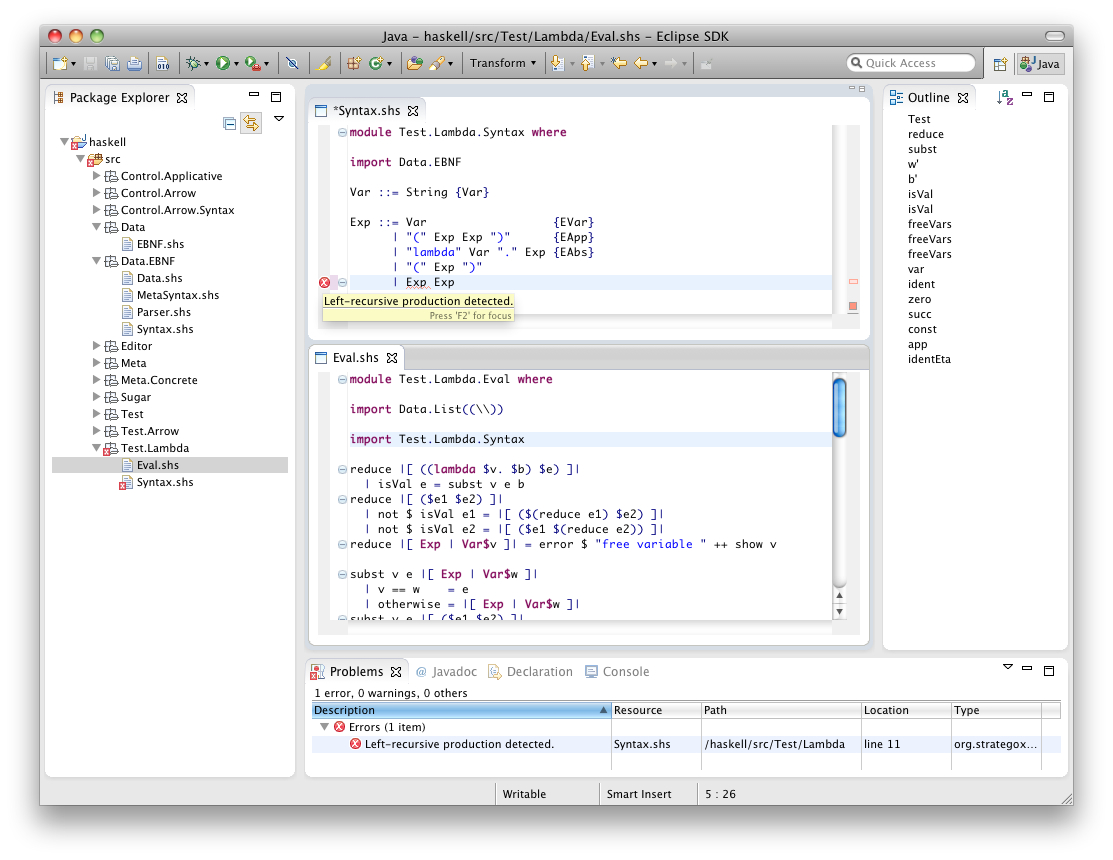 SugarHaskell is a research prototype that is under active development. We work both on the implementation and the conceptional foundation of the system. The feedback cycle is short and any feedback is appreciated.
Further reading
Eclipse update site: http://sugarj.org/update
Sebastian Erdweg, Felix Rieger, Tillmann Rendel, and Klaus Ostermann. Layout-sensitive Language Extensibility with SugarHaskell. In Haskell Symposium, pages 149–160. ACM, 2012.
5 Haskell and …
5.1 Haskell and Parallelism
5.2 Haskell and the Web
5.3 Haskell and Compiler Writing
6 Development Tools
6.1 Environments
6.2 Code Management
6.3 Deployment
6.4 Others
7 Libraries, Applications, Projects
7.1 Language Features
7.2 Education
7.3 Parsing and Transforming
Furthermore the library was provided with many more examples in two modules in the |Demo| directory.
Features
Much simpler internals than the old library (http://haskell.org/communities/05-2009/html/report.html#sect5.5.8) .
Combinators for easily describing parsers which produce their results online, do not hang on to the input and provide excellent error messages. As such they are "surprise free" when used by people not fully aware of their internal workings.
Parsers "correct" the input such that parsing can proceed when an erroneous input is encountered.
The library basically provides the to be preferred applicative interface and a monadic interface where this is really needed (which is hardly ever).
No need for try-like constructs which makes writing Parsec based parsers tricky.
Scanners can be switched dynamically, so several different languages can occur intertwined in a single input file.
Parsers can be run in an interleaved way, thus generalizing the merging and permuting parsers into a single applicative interface. This makes it e.g. possible to deal with white space or comments in the input in a completely separate way, without having to think about this in the parser for the language at hand (provided of course that white space is not syntactically relevant).
Future plans
Since the part dealing with merging is relatively independent of the underlying parsing machinery we may split this off into a separate package. This will enable us also to make use of a different parsing engines when combining parsers in a much more dynamic way. In such cases we want to avoid too many static analyses.
Future versions will contain a check for grammars being not left-recursive, thus taking away the only remaining source of surprises when using parser combinator libraries. This makes the library even greater for use teaching environments. Future versions of the library, using even more abstract interpretation, will make use of computed look-ahead information to speed up the parsing process further.
Students are working on a package for processing options which makes use of the merging parsers, so that the various options can be set in a flexible but typeful way.
Contact
If you are interested in using the current version of the library in order to provide feedback on the provided interface, contact <doaitse at swierstra.net>. There is a low volume, moderated mailing list which was moved to <parsing at lists.science.uu.nl> (see also http://www.cs.uu.nl/wiki/bin/view/HUT/ParserCombinators).
7.4 Generic and Type-Level Programming
instance (GEnum a) => GEnum (Maybe a)
instance (GEnum a) => GEnum [a]
These instances are empty, and therefore use the (generic) default implementation. This is as convenient as writing |deriving| clauses, but allows defining more generic classes. This implementation relies on the new functionality of default signatures, like in |genum| above, which are like standard default methods but allow for a different type signature.
GHC 7.6.1 brings support for automatic derivation of |Generic1| instances, meaning that generic functions that abstract over type containers (such as |fmap|) are now also supported.
Further reading
http://www.haskell.org/haskellwiki/GHC.Generics
7.5 Proof Assistants and Reasoning
7.6 Mathematical Objects
Ongoing experimental work includes:
The core library, dimensional, as well as dimensional-tf, can be installed off Hackage using cabal. The other experimental packages can be cloned off of Github.
Dimensional relies on numtype for type-level integers (e.g., pos2 in the above example), ad for automatic differentiation, and HList (→7.7.1) for type-level vector and matrix representations.
Further reading
7.7 Data Types and Data Structures
There are some drawbacks to the query layer: it doesn't cover every use case. Since the last HCAR report, Persistent has gained some very good support for raw SQL. One can run arbitrary SQL queries and get back Haskell records or types for single columns.
Persistent also gained the ability to store embedded objects. One can store a list or a Map inside a column/field. The current implementation is most useful for MongoDB. In SQL an embedded object is stored as JSON.
Future plans
Future directions for Persistent:
Full CouchDB support
A MongoDB specific query layer
Adding key-value databases like Redis without a query layer.
Most of Persistent development occurs within the Yesod (→5.2.6) community. However, there is nothing specific to Yesod about it. You can have a type-safe, productive way to store data, even on a project that has nothing to do with web development.
Further reading
http://yesodweb.com/book/persistent
7.8 User Interfaces
7.9 Functional Reactive Programming
7.10 Graphics
7.11 Audio
7.12 Text and Markup Languages
7.13 Natural Language Processing
7.14 Machine Learning
7.15 Bioinformatics
7.16 Embedding DSLs for Low-Level Processing
7.17 Others
8 Commercial Users
9 Research and User Groups